Monument Signs
It's our job to make you look good!
    Our artistic freestanding monuments are guaranteed to last a lifetime. Signs & Stuff purchases the latest innovations in sign-making technology by insuring your monument sign is constructed with the best durable synthetic masonry. The installation of this material is more cost-effective than standard masonry, allowing you to spend on other areas of your business. You don?t have to worry about maintaining your outdoor monuments either – the material we use prevents the growth of mold and mildew!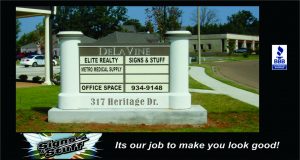 The wide variety of monuments we offer gives your business a lasting professional look that is easily recognized by your customers.  Check out our supplier:   

Peachtree City

 

F

oamcraft

.
As the innovator of the Foamcore monument sign, Foamcraft is home to the Original Monument. Signs and Stuff  buys only the best in foam signs from Foamcraft, who  is the monument manufacturer of choice for thousands of sign shops across the United States and Canada.
Peachtree City Foamcraft specialize in manufacturing eye-catching outdoor signage that offers  the best of both worlds ? a lightweight and durable foam monument sign. All of our exterior monument signs have a lightweight, eps foam core and are sprayed with our exclusive 

Poly-Armor? hard coat 

that makes our monument signage impervious to rot, termites and moisture.  Our products handle thermal cycling and they will not crack, rot or deteriorate due to extreme weather conditions. Out structures will maintain high impact resistance properties from the day they are put into service to the day they are removed.
Signs and Stuff is committed in DeSoto County and north Mississippi to bring only the highest quality in monument signs.  Check out our local signs installed in Southaven, Hernando, Olive Branch, Byhalia, Oxford, Horn Lake, and Batesville – we have even ventured into the Memphis area!